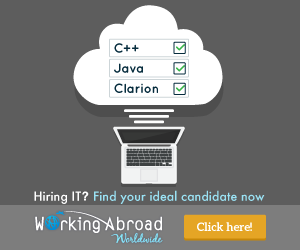 Global Recruiting website "Working Abroad Worldwide" aired in 2016 to help global companies aiming to hire IT Professionals in a worldwide perspective.
Don't be limited to your domestic market and find that perfect employee right now!
Why choose Working Abroad Worldwide?
Worldwide platform for high skilled IT job seekers
Unlimited job postings for gathering appropriate candidates for each position
Upload your vacancy easy and fast
Brand your company to a worldwide audience
Our Scout Mail feature allows you to contact the right candidate from our worldwide CV database that matches your criteria.
With this active approach you can hire top IT employees before the competition does.
Make your recruitment process easier.
You can see the entire resume, except personal information. When you contact an applicant through our Scout Mail function and they respond favorably, personal information will be disclosed (incl contact information).